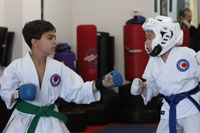 Our junior's program is designed to strengthen the participants in a fun and safe environment. They learn skills that they can use in other aspects of their lives. Students will gain confidence, self-discipline, and control as they learn how to act and react to the world around them.
We understand that in today's environment self defense is an everyday necessity. Our junior's program use interesting and enjoyable methods to introduce self defense and awareness, including Kumite (free fighting).
Our teaching philosophy:
We promote non-violent resolutions to conflict.
Our students are treated with respect and are taught to return the same respect to others.
We believe in praise, encouragement, and positive reinforcement.
We teach students the value of making goals and working to meet them.